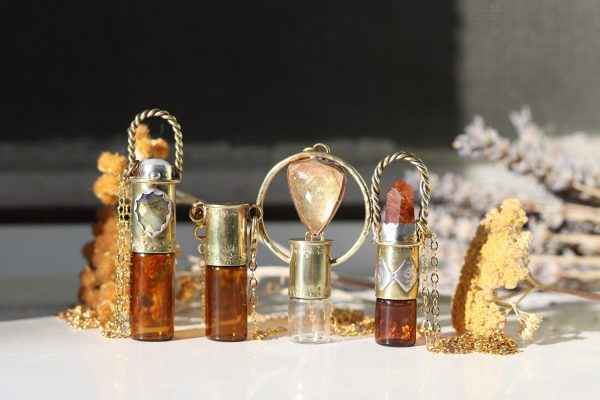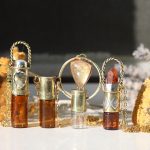 Golden Rollerball necklace
✓ inspired with Autumn colors – 3 ml (comes with a stainless steel roller ball)
✓ each bottle I made, is one of a kind and handmade by me, from scratch, many many steps and hours!
✓ handmade of raw brass and silver details, with amazing high graded stones; multi colored sparkling, rose cut Labradorite in front and Rainbow multi colored Moonstone on top
✓ gold plated chain approx. 80 cm long
✓ the bottle pendant is approx. 8cm high
✓ you will get one polish cloth with your roller – for refreshing the color over time – because brass gets darker color in natural way over some time…covered with protective wax!
✓ I use only natural stones and it's possible they have small cracks that are part of its natural state
CHOOSE BETWEEN;
1. Moon stamps
2. Sunset stamps
*LABRADORITE CRYSTAL: Labradorite Crystal is a stone of magic, awakening within you mystical and magical abilities and psychic powers. This is because within the throat chakra they stimulate stronger psychic communication abilities and within the third eye chakra they work to enhance both telepathic and prophetic gifts. Wearing a piece of this stone just seems to charge you with a sense of excitement and adventure, to take the steps required to go where you have not gone before!
Description
Additional information
SHIPPING
Description
***Wearers should take precaution since the bottle is made of glass, Ayelen creations is not responsible for any damage caused if the glass breaks. Remove the cap by screwing it from the bottle and not from the handle.
For making these bottles, it takes a lot of steps,time and patience. The process of production is quite complicated, and slow. All of my jewelry is handmade and should be treated as such – best is to keep it separately with other jewels, in dry place, (avoid water – to protect the metals from tarnish 🙂
··❂··All of the items are handmade with passion, heart and soul, meant to last. They are also hand finished, and because of this, no two items are exactly alike or perfect. All handmade items will have natural imperfections, but because of that Ayelen creations are unique and one of a kind.
give me 2 – 10 working days to ship this item (after your payment)