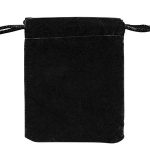 VELVET ANTI TARNISH mini bags
$3,00
*These velveteen finish drawstring pouches have been treated with a tarnish inhibitor to offer long term protection against tarnish and corrosion for any jewellery items stored inside.
*They fit only to bottle rollers size; 1ml – 2ml   and  smaller 3ml —-  size of the bag 9x7cm ((2.75″ x 3.5″) when it is open, so you can compare it to the size of the roller – or jewelry.
*The velveteen pouches are black in colour, and are closed with a black satin cord drawstring. Each anti-tarnish jewellery pouch measures approximately 70mm x 90mm (2.75″ x 3.5″) when open.
Description
fits only to bottle rollers size –  1ml , 2ml , 3ml
and smaller jewelry (max.size 9x7cm)
give me 1-4 days after your payment