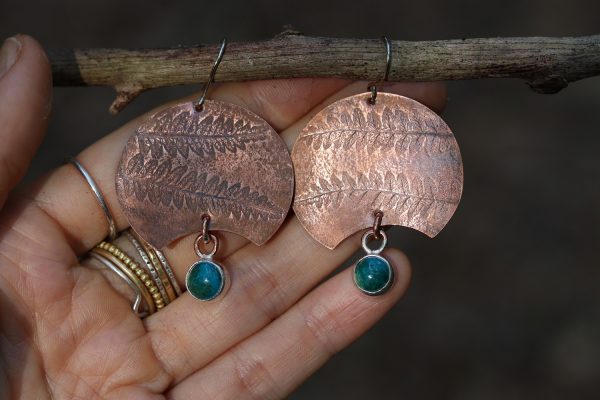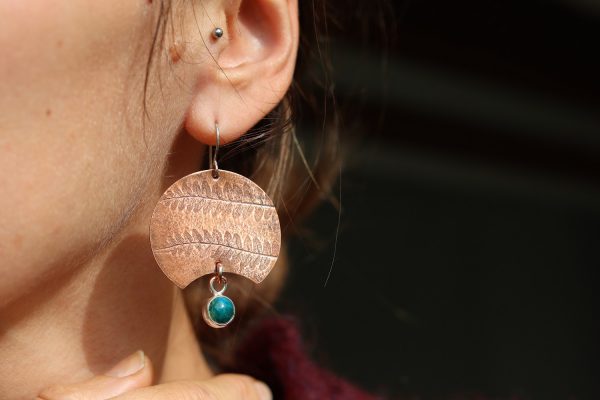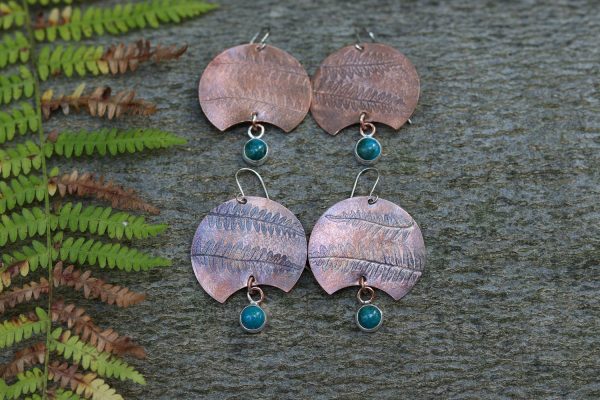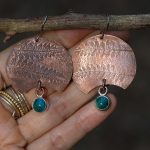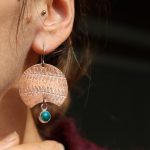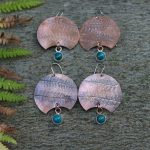 Forest fern earrings
89,00 € (670,57 kn)
One of a kind – big FERN earrings – made with real ferns + beautiful green-blue Chrysocolla
✓ handmade of copper & silver (long ear pins are sterling silver) with unique patina for rustic style
✓ medium heavy, perfect for every day wear
✓ total length approx. 5cm
✓ you will get one polish cloth with your earring – but this kind of earrings, made of copper, looks amazing over the time, when they got more patina 🙂
Meaning: Chrysocolla is a tranquil stone associated with empowerment and teaching, often referred to as the "wise stone" or the "teaching stone."
Healing Properties: This crystal is known for its ability to calm the mind, reduce mental tension, and offer a sense of renewed strength, especially during times of change.
Protection: Chrysocolla acts as a protective shield against negative energies, helping to draw off all kinds of negative vibrations.
Usage: It can be worn as jewelry, placed in the home or workspace, or used during meditation to harness its soothing and inspiring energies.
Care: To keep Chrysocolla's energies pure, it's essential to cleanse it regularly, either by placing it under the moonlight or using smudging techniques.
Description
··❂··All of the items are handmade with passion, heart and soul, meant to last. They are also hand finished, and because of this, no two items are exactly alike or perfect. All handmade items will have natural imperfections, but because of that Ayelen creations are unique and one of a kind.
***** NOTE TO BUYERS- jewelry made of BRASS gets a darker gold look, because the color become dark gold in natural way. For fine jewelry it is important to – avoid contact with perfumes, lotions, water, or hair products and it is recommended that you store all jewelry in the provided box.
give me 1-4 working days to ship this item (after your payment)