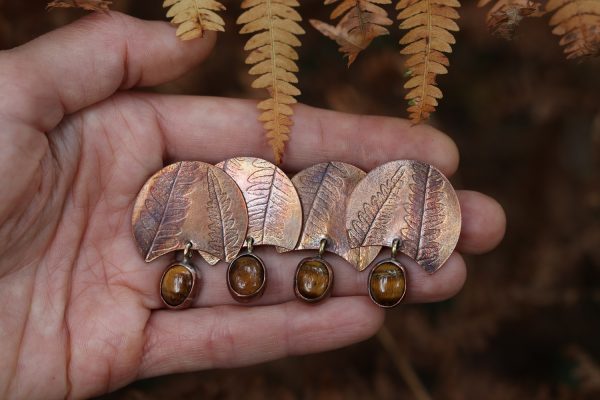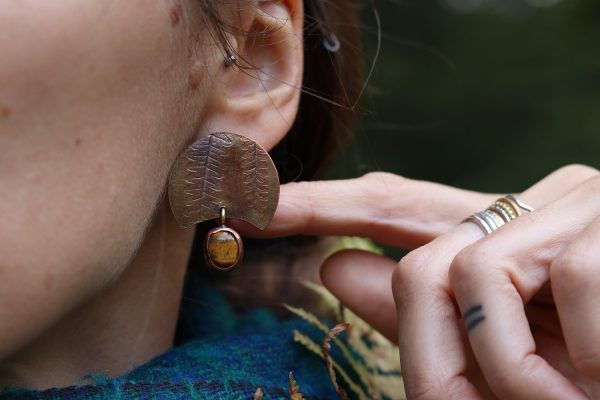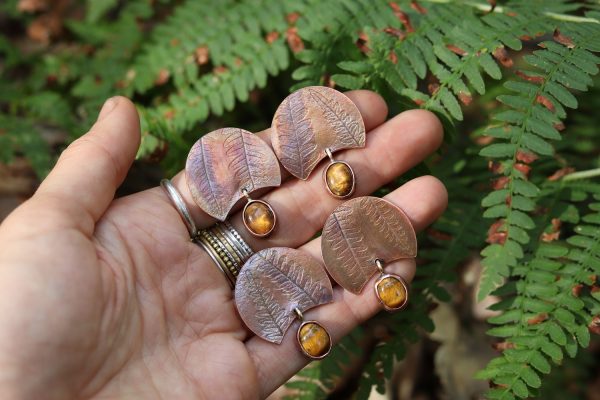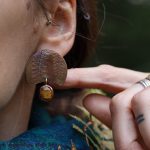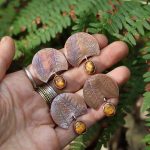 Tiger eye fern earrings
88,00 € (663,04 kn)
One of a kind – smaller FERN earrings – made with real ferns + beautiful golden Tiger eye crystals
✓ handmade of copper with unique patina for rustic style (ear pins are silver)
✓ medium heavy, perfect for every day wear
✓ long approx. 3.5cm
✓ you will get one polish cloth with your earring – but this kind of earrings, made of copper, looks amazing over the time, when they got more patina 🙂
Meaning: Tiger eye is a powerful stone that aids in releasing fear and anxiety, promoting mental clarity, and grounding the energies of the sun and earth.
Healing Properties: The stone is believed to heal the emotional body, mend broken relationships, and bring insight into internal conflicts.
Protection: Tiger eye serves as a protective shield against negative energies, helping to ward off the evil eye and other malevolent forces.
Usage: It can be worn as jewelry, placed in the home or office, or used in meditation to harness its energy and connect with its grounding properties.
Care: To cleanse and recharge the tiger eye, it's recommended to place it in sunlight or smudge it with sage.
Description
Additional information
SHIPPING
Description
··❂··All of the items are handmade with passion, heart and soul, meant to last. They are also hand finished, and because of this, no two items are exactly alike or perfect. All handmade items will have natural imperfections, but because of that Ayelen creations are unique and one of a kind.
***** NOTE TO BUYERS- For fine jewelry it is important to – avoid contact with perfumes, lotions, water, or hair products and it is recommended that you store all jewelry in the provided box.
*all the crystals I use in the making are natural and high quality – and due to their nature, they can have tiny "irregularities".
Additional information
| | |
| --- | --- |
| Styles | LABRADORITE, MOONSTONE, ROSE QUARTZ |
give me 1 – 4 working days to ship this item (after your payment)